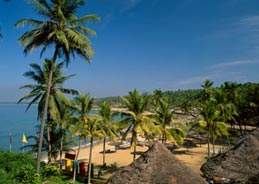 One of the unique features of the beaches of Kerala are the clean sands bound by incessant rows of palm trees. This adds to the magic created by sunbathing, boating and swimming in these waters.
Kovalam Beach
Kovalam is a beautiful sea resort, the only one, in Kerala. This beautiful fishing village is situated 10 km from Thiruvananthapuram.
Kovalam consists of three successive small crescent beaches; the southern most known as Lighthouse Beach, is where most of the visitors spend their time. The beach is bordered with low cost lodging houses, and restaurants which offer adequate facilities, at affordable tariffs - ideal for a long stay. The light house on the promontory at the southern end of the beach, offers a spectacular view across to the Vizhinjam mosque. Photography is prohibited here.
The local fishermen crowd the middle beach in the daytime. Ashok Radisson resort, a five star hotel overlooks the beach. The third beach is situated to the north of Ashoka which has some fishing vessels.
Papanasam Beach
Papanasam is a holy beach which means 'Destroyer of the sins'. Mineral water springs come gushing out from the cliffs bordering the beach and are known for their medicinal qualities. The narrow road leading to the beach from Varkala is flanked by paddy fields and tall palm trees, on both sides. A Nature Cure Centre and a Jagannath Swamy (Vishnu) Temple are situated near the beach. Visitors can pay homage to Kerala's saint and reformer Sree Narayana Guru.
Alleppey Beach
Alleppey beach has a long stretch of shore that is laden by dense palm groves. The landscape around the beach is very fascinating. as is the rest of Kerala. A towering lighthouse overlooks the beach.
Kappad Beach
This is the historic beach where Vasco da Gama landed on 27 May, 1498 with 170 men in three vessels - a site which witnessed an event that changed the course of Indian history. 16 km away from Kozhikode (Calicut), the pleasant, calm beach, locally known as Kappakadavu, is studded with rocks and caressed by friendly waves.
Bekal Beach
The old-fashioned little town of Kasargode, 153 km North of Kozhikode, near the Karnataka border, is principally a fishing village. Flanked on both sides by long, ravishingly beautiful palm fringed beaches, the Bekal Fort stands proud on a promontory. This is one of the largest forts in Kerala and has been under the control of various powers including Vijayanagar, Tipu Sultan and the British. The fort's commanding position, with views across the bays to the North and the South are breath-taking.
Shanmugham Beach
This is a popular city beach very near the airport. An indoor recreation club, children's traffic training park and a star shaped restaurant are some of the facilities at the beach.
Lighthouse Beach
This beach is beautifully set with palm trees dotting the headlands to the south, which is where the lighthouse is located, and north where a 20-40 m stretch of fine gold and black sand arches around the bay. Nothing much to do except perhaps go for a stroll or a swim, it's nice as beaches go, but there are better beaches than this.
Rockholm Beach
Another stretch of beach along the same axis as Lighthouse Beach, Rockholm Beach is accessible either via a track leading down from the Rockholm Hotel (and Palmshore Hotel), or alternatively by walking southwards from Lighthouse Beach over the headland on which the lighthouse stands. Swimming is possible.
Samudra Beach
This beach is just 4 kms north of Kovalam and has a number of resorts jostling with the local fishing village for space and to accommodate the regular stream of tourists. It is also called Samudra Beach because it is dominated by the KTDC's excellent Hotel Samudra. This beach is not private but, just a 15 min walk or Rs 50 ride northwards from Lighthouse Beach, it is virtually free of pestering beach sellers. The first little bay is edged by small rocky promontories and not very good for swimming.
Varkala
It is an increasingly popular beach resort. The sea shore is called Papanasm and hundreds of Hindu devotees perform Vavu Bali on new moon days of the Malayalam month of Karkidakam. Varkala is 90 minutes away on the bus and a pleasant convenient place to stop overnight or even perhaps for a day or so. It's a great stopover especially for lunch when travelling between Alappuzha or Kollam and Thiruvananthapuram. Varkala is 54 km from Thiruvananthapuram and 37 km from Kollam. The railway station is 3 km from the beach.
Thirumullavaram
Located about 6 km north of Kollam, the beach here is very beautiful. It is connected to Kollam town by bus.
Veli Tourist Village
Veli is an attractive beach resort on the coast 9 km from Thiruvananthapuram. It has a lake where one can go boating and a small backwaters stretch with facilities for water skiing, diving and boating. Motor boats, paddle boats, rowing boats and ponies are available for hire. The ornamental park has several modern sculptures and there is also a playground for children. Buses go regularly from East Fort to Veli. Veli has a youth hostel offering dormitory style accommodation.