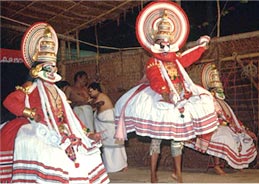 Dance and art forms are integral parts of a region's culture. 'God's Own Country' Kerala boasts of its several forms of dances and art. Some of the folk dances which are native to the state have gained popularity. They are performed during temple festivals and other ceremonious occasions. These folk dances are unique in their presentation and involve perfect expressions performed by very fine class of dancers. In Kerala, the folk dances are accompanied by splendid costumes and ornaments perfectly adorning the performers. There are nearly 50 dance forms performed in Kerala, out of which prominent ones are Thiruvathirakali, Theyyam, Koodiyattam, Chakyar Koothu and Ottamthullal. Kerala is renowned for its two indigenous forms of classical dances 'Kathakali' and 'Mohiniyattam'.
Kerala Dances

Kathakali
Kerala is known worldwide for Kathakali, which is generally performed by male dancers. Usually staged on temple grounds, Kathakali is a classical dance form that utilizes detailed and stylized makeup and colorful costumes. The typical Kathakali costume includes a headgear, billowing skirt and plentiful ornaments. During a typical performance, the artists play the role of mythological characters from Hindu epics such as Ramayana and Mahabharata. The entire story or a scene from a mythological story is depicted by the artists, by making use of graceful movements of hands, eyes and legs. Props are used wherever necessary. Chenda (traditional drum) player is accompanied by one or two singers, who narrate the story in the form of song. This completes a typical Kathakali performance.
Mohiniyattam
Mohiniyattam is a sensual classical dance that involves graceful movements. Mohiniyattam is performed only by women. This dance includes elements belonging to other classical dances like Bharatanatyam and Kathakali. The dance movements are gentle and graceful, especially the eye movements which are mesmerizing.
Thirvathirakali
Thirvathirakali popular group dance is performed during Onam festival in Kerala. It is performed by women who move in circle and dance rhythmically to the tune of Thiruvathira songs.
Kolkalli
Kolkalli is highly rhythmic dance form. It is mainly performed by agrarian classes. It involves the use of wooden sticks as props. This dance is usually performed by a group of 24 dancers, who move in a circle beating the long sticks.
Ottamthullal
Ottamthullal is a popular dance form in Kerala. Famous Malayalam poet Kalakkaththu Kunchan Nambiar has been credited with the creation of this dance form, way back in the 18th century. Originally, this dance was performed by a single actor wearing make up and colorful costumes. Later it was staged as group dance involving many actors playing their character in the story. This art form is very popular among common man due to its satirical touch. During the performance, the dancer musically narrates a story, which may be based on mythological stories.
Koodiyattam
Koodiyattam is a part of Sanskrit theatre art. The popular dance form of Kerala is the only remaining proof of the ancient Sanskrit Theatre. Traditionally, it was being played in temples for centuries. The important musical instruments used in Koodiyattam are Mizhavu, Kuzhitalam, Kurumkuzhal and Sankhu.
Chakyar Koothu
Chakyar Koothu is an ancient dance form performed in Kerala. In this highly refined dance form, the performer narrates events from Hindu epics like Ramayana and Mahabharata. It is generally performed in temples during special occasions and festivals.
Theyyam
Theyyam is a popular dance form performed in Malabar region of Kerala. For thousands of years, Theyyam and its rituals are in practice in this region. It is a Dravidian art form and is quite popular due to its accessibility to lower castes.