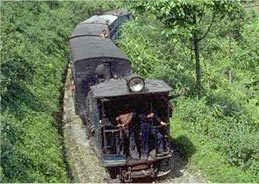 Kerala is known for its natural beauty and cultural diversity. A wide and well connected network of roads ensures that this diversity doesn't hinder the comfort of local people and tourists. Being a popular tourist destination, there are facilities of luxury coaches and tourist taxis for visitors. Apart from roadways, ferry boat and railways are the other important modes of transport in Kerala. Ferries are the best way to enjoy pleasure rides while seeing the breathtaking views of backwaters of Kerala.
Taxi
Taxis are the best way of covering short distances in Kerala. Taxies generally include cars like Ambassadors and Tata Indica. Cars are also available on rent. The cabs can be helpful in enjoying the scenic natural beauty of the state. These taxi services can be expensive, but would definitely offer great comfort and luxury to travel on the roads of Kerala.
Auto Rickshaw
Auto rickshaws are integral part of the local transportation system of Kerala. There are plenty of auto rickshaws available in the state. The three-wheeler rickshaws are great in traveling around the cities and towns. Compared to taxis, autos are cheaper for short routes.
Local Buses
There is large fleet of buses belonging to the Kerala State Road Transport Corporation (KSRTC). Private bus operators also offer easy and cheap transportation between cities and towns within the state as well as the neighboring states of Tamil Nadu and Karnataka. Buses are available at regular intervals. There are facilities of air-conditioned Volvo buses available in the metro cities of Kerala.
Railways
There is a well connected network of passenger trains connecting major cities across the state of Kerala. Express trains are also available, but only from major stations. Railways connectivity is better in the southern side as compared to the northern region.
Airways
Kerala has considerable number of airports, which connect it with other major cities of the country. The major airports of Kerala are located in Thiruvananthapuram (Trivandrum International Airport), Cochin (Nedumbassery Airport) and Kozhikode (Calicut International Airport).
Ferry Boat
Being a coastal state, many cities in Kerala also use ferries and boats for transportation. There are nearly 16 ports in the state, of which Kochi is the most important port. Inland water system is available in the coastal districts, including Kollam, Alappuzha, Kottayam, and Ernakulam.