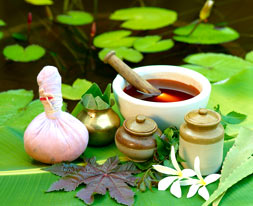 Ayurveda is an ancient form of alternative medicine, which is practiced in India from time immemorial. It is an ancient and established scientific medication system, which has an extensive record of clinical practice and recovery. Ayurveda is not just limited to the treatment of ailments, but also educates a person that how he should protect and maintain a healthy body. Ayurveda, though being an ancient branch of knowledge, always evolved and improved itself with time. The art of Ayurveda teaches us the ways to treat ailments and how to prolong a vigorous life. It treats the body, mind and soul as an individual entity. Hence, the treatment provided by Ayurveda is holistic and lasting.
Ayurveda is a branch of alternative medical science as well as philosophical school of learning. It believes in the philosophy that everything flows from one source and ends into that source itself. This phenomenon can also be described as the higher being or the ultimate power, which is the source of all energies. Hence, the energies which flow in the body are a part of this eternal being. The nature or Prakriti, being the closest parallel to this energy, plays an important role in the treatment and proper functioning of the human body.
The Ayurvedic reasoning says that the major cause of the malfunctioning of the body is the imbalance of the three universal energies, which are present inside the body. These are Vata, Pitta and Kapha. Thus, Ayurveda stresses on the treatment of an individual rather than dividing them into generic groups on the basis of the outer symptoms. For instance, even when two people have common outer symptoms, there is a possibility that Ayurveda may prescribe two different treatments for both of them.
Kerala is the place in India, where Ayurveda flourishes The form of Ayurveda practiced at the Ayurvedic institutions of Kerala is quite different from that practiced at any other part of India. It is because this form of Ayurveda is different from other Ayurvedic style in its essence and philosophies. The Kerala Ayurveda is different because it is worked out and developed around one particular text that is Vagbhata's "Ashtangahridayam". This difference is further extended by overshadowing the use of metal and minerals in Kerala Ayurveda with the exclusive use of herbs based formulations. Another reason due to which Ayurveda flourishes in Kerala is the climate of state, which supports the growth of medicinal herbs as well as speeds up the functioning of these medicines inside the human body.
Rejuvenation Programmes
There are a number of rejuvenation programs, which are offered by the Ayurvedic institutions in Kerala. These programs don't focus on a particular ailment. Hence, they can be enrolled into, by anyone on the basis of their choice. No detailed prescriptions are necessary for these medications, as these are not ailment specific and focus on the holistic well being.
Therapeutic Programmes
Therapeutic programs of Ayurvedic treatment are designed to treat chronic diseases such as Spondilitis, paralysis, insanity and a number of other diseases. As these treatments are therapeutic, these are supposed to be continued for a prolonged period of time. These treatments are specially designed for the finding cure to a particular disease,
Yoga & Meditation
With the continual upsurge of the technological advancements, human beings have become more and more confined to the bounds of the 'concrete jungle'. This confinement has further given birth to a number of unhealthy habits. This in turn leads the human being to become more prone to certain ailments which goes hand in hand with an unhealthy lifestyle.