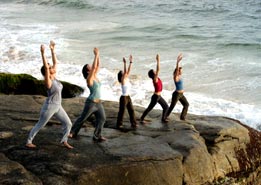 With the continual upsurge of the technological advancements, human beings have become more and more confined to the bounds of the 'concrete jungle'. This confinement has further given birth to a number of unhealthy habits. This in turn leads the human being to become more prone to certain ailments which goes hand in hand with an unhealthy lifestyle. People have been hooked up with the routine which they follow incessantly. Exercising has become next to impossible. Thus, an increasing number of people have decided to fall back to the roots of the modern day exercising regime. They have started taking interest in Yoga and Meditation.
Yoga is a healthy art of living, which was created and evolved up to its present form, by the Indians. Meditation relaxes the mind and body and makes it peaceful and content. The art of meditation is connected to mind and body equally. Similar to Ayurveda, it too treats the mind and body as two entities, which are in complete harmony. Kerala is a hub for Yoga and meditation, as the serene atmosphere of this place along with the surrounding natural beauty helps in meditating. There are a number of institutions in the state that teach Yoga and meditation. These have evolved from traditional ashrams to new age Yoga and meditation spas. Though Yoga and meditation are powerful techniques, these techniques seldom have quick results. So, these exercises are commonly prescribed along with a number of other Ayurvedic treatments.
Another thing which is important to note here is that as these form of treatments are of prolonged duration, these need strict discipline, dedication and determination. Meditation and Yoga are given extreme importance in Kerala, because these are the first system of treatment, which comprehended the relation between the body and mind. Meditation is not just closing the eyes and sitting still in a particular position, it is much more than that. It is an attitude which one needs to develop while meditating. it is a code of conduct which works towards the spiritual fortification and the altitude of divinity. Kerala is famous for its multi stepped system of yoga and meditation, which are followed strictly to accomplish perfection. This kind of Yoga is called the Ashtanga Yoga.
Ashtanga Yoga includes steps such as disciplined behavior (Yama), self purification (Njyama), bodily postures in lotus position (asana), breathing control (Pranayama), senses control (Pratyahara), steady mind on an object (Dharana), meditation (Dhyana) and Samadhi (a state of tranquility). The first five steps are external and are related to more of yogic postures and exercises. The rest of the steps are internalized and so are related to meditation. Ayurveda always remains an integral part of this routine, so that best results can be achieved.