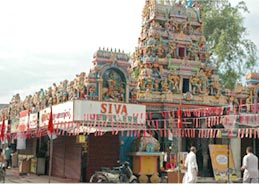 Kerala is surely the land of temples and festivities. Thiruvananthapuram, the capital city of Kerala, is popularly known as the city of temples, as it alone has hundreds of sacred temples. With the backdrop of natural beauty and hundreds of temples across the state, Kerala provides a pure and serene atmosphere where devotees can chant prayers, invoke the deities and participate in temple festivals. There are numerous temple festivals celebrated with great pomp and show by different temples throughout the year.
Every temple has its own procession. Almost all the processions have one thing in common that is Elephants and adorned with gold and silver plated ornaments. This humungous animal has a special place in the heart of people of Kerala. Almost every major temple maintains a fleet of elephants along with their rider, inside the temple premises. Although the temples of Kerala are famous mostly because of the religious beliefs, what one cannot avoid to notice is the magnificent architecture of these places. The traditional architecture and craftsmanship of temples in Kerala is commendable and hence attract a large number of visitors.
Aranmula Parthasarathy Temple
Aranmula Parthasarathy Temple dedicated to Lord Krishna, is one of the ancient shrines of Kerala. Located in Aranmula in Pathanamthitta district of Kerala, the holy place is charmingly positioned on the left bank of the holy Pampa River.
Attukal Temple
Attukal Bhagavathy Temple, located in Aattukal, Kerala, is one of the oldest shrines of South India. The presiding deity of the temple is Attukal Bhagavathy, who is believed to be an incarnation of Goddess Parvathi.
Chottanikkara Temple
Administered by the Cochin Devaswom Board, Sri Chottanikkara Bhagavathy Temple is a famous Hindu pilgrimage site located in Ernakulam, Kerala. Sri Rajarajeswari, who is an incarnation of Goddess Bhagwathi, is the presiding deity of the temple.
Ettumanoor Temple
Ettumanoor Temple, popularly known as Ettumaanur Mahadevar Temple, is among the most visited temples of Kerala. The main deity of the temple is Lord Shiva. It is said that Pandava and Sage Vyasa have also worshipped in this temple.
Guruvayur
Dedicated to Lord Krishna, Guruvayur Temple is one of the most famous temples in the entire south India. The serene and pious atmosphere of the temple attracts thousands of Hindu devotees from all over the world.
Kadampuzha Devi Temple
Kadampuzha Devi Temple is a renowned temple and pilgrimage center in Malappuram District, Kerala. Mighty Goddess Durga is worshipped by number of devotees, in this temple.
Kaviyoor Mahadeva Temple
Kaviyoor Mahadeva Temple is one of the most ancient Mahadeva temples in Kerala. Located at the village of Kaviyoor (one of the ancient 64 Brahmin settlements of Kerala), in Pathanamthitta District, the main deity of this temple is Lord Shiva.
Kodungallur Bhagavathy Temple
Kodungallur Bhagavathy Temple is a renowned temple located in Kodungallur town in Thrissur District of Kerala, India. The temple is also known as Sree Kurumba Bhagavathi Temple Kodungalloor.
Koodalmanikyam Temple
Koodalmanikyam Temple is a Hindu temple located at Irinjalakuda in Thrissur/Trichur district of Kerala, India. Koodal Manikyam is renowned for being the only temple in India, where Bharata (one of the brothers of Lord Rama) is being worshipped.
Kottarakkara Sree Maha Ganapathy Temple
Kottarakkara Sree Mahaganapathy Temple is located in Kottarakkara Taluk in Kollam district of Kerala. Dedicated to Lord Ganapathi, the temple is one of the renowned temples in Kerala. Apart from the presiding deity, Lord Shiva,
Lokanarkavu Temple
Lokanarkavu Temple is located at Memunda, which is 5 km away from Vadakara /Vatakara, in North Malabar region of Kerala. Lokanarkavu Temple is the more popular name of short name of Lokamalayarkavu.
Mammiyoor Temple
Dedicated to Lord Shiva, Mammiyoor Temple is located in Thrissur (Trichur) district of Kerala. The temple is just 200 m away from the renowned Guruvayur Shree Krishna Temple.
Padmanabhaswamy Temple
The famous Padmanabhaswamy Temple which is now one of the richest temples of the world, is located in Thiruvananthapuram (Trivandrum), the capital city of Kerala. Dedicated to Lord Vishnu,
Thirumanthamkunnu Temple
Thirumandhamkunnu Temple is one among the earliest and prominent Mahakshethras of Kerala. Dedicated to Lord Shiva and Goddess Parvathy, this shrine is located at Angadippuram in Perinthalmanna,
Thodeekalam Siva Temple
Situated around 2 km away from Kannavam near Thalasserry in Kannur district of Kerala, Thodeekalam Siva Temple is one of the popular Hindu temples in Kerala. The temple attracts not just a number of devotees, but also art lovers.
Thriprayar Temple
Thriprayar Temple, located in the southern part of Thrissur district of Kerala, is one of most important temples dedicated to Lord Rama in the state. The temple is adorned with a number of precious murals,
Vadakkunnathan Temple
Vadakkunnathan (also spelt as Vadakkumnathan) Temple of Thrissur/Trichur is one of the largest Lord Shiva temples in Kerala. The temple is also known as Then Kailasam (Kailasam of the South).
Vaikom Mahadeva Temple
Vaikom Mahadeva Temple is one of the most admired Shiva temples in South India. Located at Vaikom Taluk in Kottayam district of Kerala, the Shiva Lingam installed in this temple is supposed to be dating back to 'Treta Yuga'.