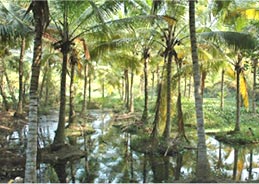 The beautiful landscapes, lush green flora and exotic fauna, tranquilizing backwaters and sunny beaches of Kerala make it truly 'God's Own Country'. Apart from this, the densely population southern state of India is also blessed with thick and green forests. The forests in Kerala are of a wide variety. This unique blend of vegetation is seen in Kerala, because of the varied landscapes present here. The valleys and mountainous topography make the climatic conditions differ from one place to another. Most parts of Kerala are covered with thick green woods, of which tropical forests and grasslands are predominant. The Government of Kerala has taken a number of steps to conserve and protect the forests and the wildlife present in the state. The forests in Kerala serve as a safe have for a number of fauna and Avifauna, a large number of which migrate to Kerala from different parts of India and abroad during winters.
The forests in Kerala, along with the fauna and exotic flora, give a wonderful sight to the visitors. Temperate climate and heavy rainfall assist in the maintenance of greenery in the woods. This is the only reason why there are so many wildlife sanctuaries in Kerala. These forests are the ultimate paradise for the nature lovers and others who are interested in wildlife.
Attappady
Situated on the north east part of the beautiful district of Palakkad, Attappady (Attappadi) is a stunning forest area in Kerala. Attappady Forest is surrounded with lush green and hills in almost all sides. Spread over an area of 827 sq. km, the best time to visit Attappady Forest is from September to May. The place is located amidst the quaint and sloping Western Ghats.
Edakkal Caves
Edakkal Caves is situated 1200 m above sea level, atop a mountain named Ambukuthi Mala in Wayanad district of Kerala. The naturally occurred cave is believed to be one of the oldest examples of human settlements in the district. You can find various artifacts, ancient stone scripts, engraved pictures of human and animal figures with peculiar head dresses, symbols and cave drawings of human figures, the Swastika form, bows, knives, wheels etc,
Marayur Idukki
Located in Idukki district of Kerala, Marayoor (also known as Marayur) is renowned for its natural sandalwood forests. The place is home to preserved ancient dolmens and well crafted rock paintings, which date back to the Stone Age. The forest is supposed to have the remains of a Stone Age civilization, which dates back to as old as 10000 BC. The place is also a home for a number of old dolmen-buildings,