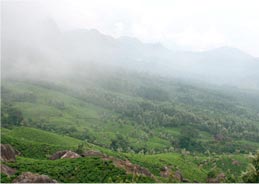 Kerala shows diversity in its climatic conditions due to the variety in its geographical features. The state experiences an equatorial tropic climate. The eastern highlands including the mountain regions predominantly have cool climate, which is very refreshing. On the other hand, the coastal plains of western lowlands generally remain hot and humid for most part of the year. The average annual rainfall in Kerala is quite high as compared to its neighboring states. The monsoon season in the state generally extends for four months. There are four types of seasons in Kerala, which include winter, summer, south west monsoon and north east monsoon.
Kerala Climate

Winter
The typical winter season can be experienced in the hill stations of Kerala. Winters in Kerala start after the state receives northeast monsoon in November. The chilly climate concludes by the middle of February. The temperature in the highlands often falls below 10 °C during this season, while other parts of the state maintain higher temperature during winters. Kerala also receives lowest rainfall during winters.
Summer
Following the winter, comes the summer season, which generally starts by the end of February and continues till the end of May. Summer in Kerala is exhibited by low rainfall, comparatively higher temperature and humid weather. Even during the peak of summer, the temperature doesn't soar over 40
0
C unlike other states. The season also shows erratic rains along with thunder and lightening.
South West Monsoon
Southwest monsoon is the main monsoon season in Kerala, which gives a break from the summer heat. Kerala being the first state to receive monsoon, witnesses voluminous rainfall. The slopes of Western Ghats are mainly hit by this monsoon and the rainfall continues for months. South West Monsoon generally ends by the end of September. The average rainfall in this season is 2250 - 2500 mm.
North East Monsoon
North East Monsoon starts in October and continues till November. These monsoons are also known as Retreating Monsoons and generally show thunder and lightening with heavy rainfall. The climate prominently remains hot and humid. The average rainfall during this season is 450 - 500 mm.