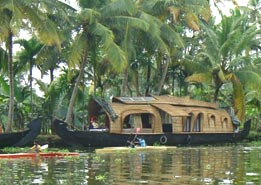 If Kerala is known as the 'Venice of the East' it is certainly not an exaggeration. If you get thrilled by the idea of spending some quality time amidst a brilliantly exotic location, then Kerala will be the top choice. To get a feel of Kerala's countryside, one must take a houseboat ride on the gurgling Alappuzha (Alleppey) backwaters. Step into a traditional country boat to extensively explore the backwaters, wind through the maze of canals and estuaries in Alappuzha. While cruising through the backwaters you will come across a number of natives who will be accomplishing their day to day routine work both on land and in water too.
In Alappuzha, you will find vegetable sellers rowing small sized boats on the small canals carrying vegetables and other groceries to natives on the banks of these canals. The backwater stretches are beautiful as well are a major source of harvesting the crops around the banks of these canals. Alappuzha is famous for its boat rides and adventure water sports. One can get all kinds of boat here. Boats are available easily according to one's requirement, starting from small country boats called the 'Kondli' boats to luxury houseboats, small speedboats to big passenger motorboats. Water sports such as snake boat race are popular and are organized on a large scale, in Alappuzha backwaters.
Alapuzzha backwaters are one of the favorite tourist destinations. A number of tourists, both domestic and foreign, come to this place every year. At any part of the network of the Vembanad Lake, the chances of coming across numerous inspiring and interesting landscapes, on and along the canals, are very high. As the network of the canals is vast and gorgeously covered with lush greens, the cruise through these canals is really a treat for eyes. The life here is dependent on these canals and estuaries, as these form the transportation routes for the small villages which are situated at the banks of these water bodies. You can easily find men on country boats occupied in fishing and guiding their ducks to new pastures, cargo being moved in huge boats called 'Kettu Vallams' and school children being ferried across the canal.